School System
The school system in Korea includes early childhood education, primary education, secondary education, higher education and lifelong education. The school system in Korea consists of nine years of compulsory education that includes elementary education and lower secondary education (middle school education), followed by the three years of upper secondary education (high school education) and generally four years of higher education. Various types of schools exist in upper secondary education and higher education according to their missions and purposes. In addition, schools where students with special needs attend are included in the official school system in Korea.
Schools in Korea can also be classified according to the type of founding bodies. National schools are established by the national government. Public schools are founded by local governments and private schools are founded by private foundations. Most of elementary schools are founded by the national or local governments. In secondary education, the percentage of private middle and high schools is far higher than in elementary education.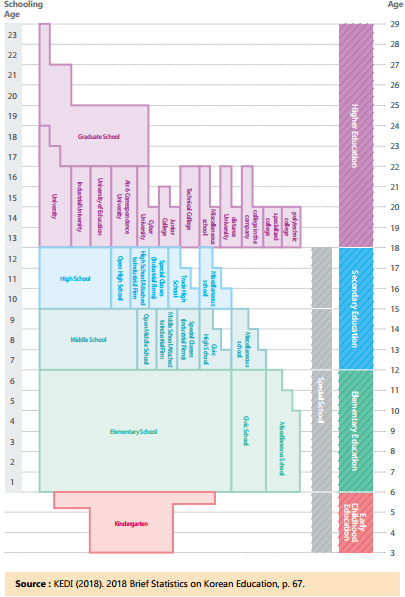 Educational Administration System
The educational administration system in Korea is two-layered. The central government, consisting of the president, and the Ministry of Education, plans and implements the educational policies at the national level, while local governments have authority over deciding educational policies significant to the communities.
At the national level, the Ministry of Education plays a role of the executive body of the central government, which has administrative control over planning, implementing, and monitoring educational policies that direct Korean education. With the Ministry of Education, the Municipal, provincial, and Regional Offices of Education are the other governing bodies that control local education system. As of 2018, there are 17 Metropolitan and Provincial Offices of Education and 176 District Offices of Education.
Educational Statistics in Korea
To see the full text, please click the download button.